Overview
Details
Why MB (S3 Type) Capacitors
Overview
APPLICATION: 
General purpose, mainly for single phase AC loads such as fans, coolers, washing machines and other small appliances.
CASE: 
STANDARD: 
Available in Matchbox type. Made of ABS material, with and without mounting ear.
UL APPROVED: 
Available in Matchbox type. Made of flame retardant thermoplastic material meeting flammability UL 94-V0, with and without a mounting ear.
ENCAPSULATION:
Dry Filling Materials (Encapsulated in non-PCB resin)
CAPACITANCE TOLERANCES: 
For Less than and equal to 400V: ±10% For greater than 400V: ±5% (For other, please inquire).
CONFORMING TO:
IEC 60252-1 (2013-08), VDE 0560-8, JIS C-4908, ISO9001:2015, UL810.
RAW MATERIAL CONFORMING TO: 
IEC-60227, JISC-2330.
RATED VOLTAGE*:
 250V to 520 V (for other, please inquire).
PROTECTION CLASS:
 S3
WHY MB PROTECTED S3 CAPACITORS: 
A safety listing is not required for motor run capacitors under IEC 60252-1 but listing for a(P-2 used in old standards for all protected capacitors, now S2 is used for pressure interrupter and S3 for segmented film capacitors) S3 motor run capacitor requires an interrupter system by segmented film ensuring the capacitor fails in an open condition in the event of a capacitor failure. Otherscapacitors, listed as (P0,P1) S0 and S1 may or may not fail in an open condition.
For film capacitors with very high standards for stability and long lifetime, such as S3 capacitors, the metallization can be made with a special fault isolation pattern. Such a metallization formed into patterns. Each of these patterns" produces a deliberately narrowed cross-section in the conductive metallization. These restrictions work like microscopic fuses so that if a point-defect short circuit between the electrodes occurs, the high current of the short only burns out the fuses around the fault. The affected sections are thus disconnected and isolated in a controlled manner, without any explosions surrounding a larger short-circuit arc. Therefore, the area affected is limited and the fault is gently controlled, significantly reducing internal damage to the capacitor, which can thus remain in service with only an infinitesimal reduction in capacitance.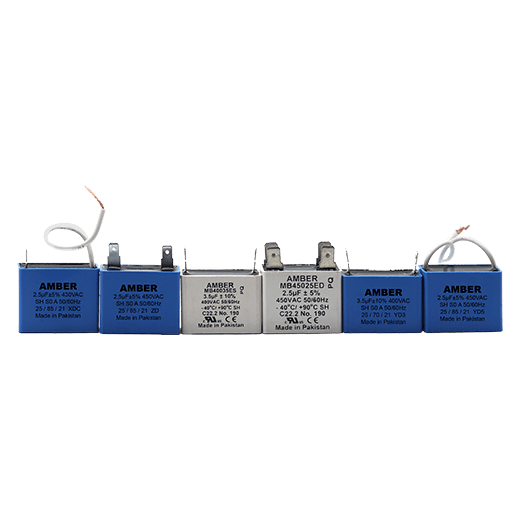 Details
Why MB (S3 Type) Capacitors