Profile of Late Mr. Ataur Rahman Arain - CHAIRMAN (1940-2013)
Mr. Ataur Rahman Arain was the Founder of AMBER CAPACITORS LIMITED (ACL), and remained its Chairman till his passing in 2013. He was also looking after Exports. Born in 1940 in interior of Sindh Province of Pakistan in a middle class family, Mr. Arain was educated in Karachi, where he obtained his degree of Bachelor of Engineering in Mechanical & Electrical Engineering in 1962. From 1962 to 1964, he worked for Water & Power Development Authority, where he obtained basic practical experience in Power System operations. Being an outstanding student, he was awarded the Commonwealth Scholarship in 1964 to pursue post graduate studies at the University of New Brunswick, Canada, from where he obtained the degree of Master of Engineering in 1966, with major in Electrical Power Systems.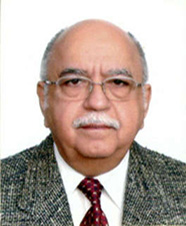 On return to Pakistan in 1966, Mr. Arain jointed Siemens in Karachi, a multi-national company engaged in manufacture, sales and installation of electrical power equipment, and various other field of engineering. Here Mr. Arain gained valuable experience in the field of sales, design, installation and commissioning of electrical power systems. During the course of his service in Siemens, Mr. Arain had the opportunity of working independently on various electrification projects, including design and supervision of turnkey projects of large distribution net works. This is where he had access to application of capacitors to power networks, a knowledge which helped and induced him to set up the AMBER CAPACITORS factory.
In 1973, Mr. Arain left Siemens and set up AMBER ENGINEERING COMPANY LTD., an organisation dedicated to turn key projects involving generation, distribution, and utilisation of electrical power. During the course of his activities in AMBER ENGINEERING Mr. Arain had the opportunity of travelling extensively around the World to various countries including USA, Canada, England, Germany, Italy, Switzerland, Belgium, Saudi Arabia, Bahrain, Jordan, Kuwait, UAE, Bangladesh, Sri Lanka, Taiwan, Hong Kong, Korea, and Japan. During these years, he handled the capacitors extensively and was involved in their applications, which aroused his interest in this product, and eventually he worked and gained extensive and in-depth knowledge of production machines, technology, and raw materials related to capacitors.
In 1990, with the technical guidance and assistance of Kondas Kondensatoren of Istanbul, Turkey, Mr. Arain established the AMBER CAPACITORS. With his high technical knowledge, extensive experience, and quality consciousness, Mr. Arain guided AMBER CAPACITORS through to produce high quality products. From the onset, AMBER commanded high respect and became known as a quality product, and found immediate place and acceptance with respected OEMs in the Pakistan market, such as Philips, Siemens, AEG, Pak Electron, Royal Fans, Pak Fans, Yunus Fans, SABRO, and dozens of other quality conscious companies.
AMBER products also received international approvals from the Underwriters Laboratories in 1996, which helped AMBER to establish in Exports. AMBER is now exporting its products to USA, Canada, Mexico, Australia, and 9 other countries. With continuous guidance from Mr. Arain, AMBER was able to receive ISO 9001 certification in the year 1999, which was eventually upgraded to the version 2000 in 2003, and then 2008 version in 2009.
Because of gradual increase in the export business, in 2003 Mr. Arain relinquished his responsibilities as the Chief Executive in favour of his son, Mr. Farhan Ata Arain, who is also a post graduate Electrical Engineer from the Illinois Institute of Technology, Chicago, USA, and took over the responsibility of promoting and expanding the export base of the Company.
He was fully active in operations and guidance of the company uptil his passing away in June 2013.