Overview
Details
Dimensions
Catalog
Drawings
Overview
Applications: Generally used in all such kind of motors(water pumps, water coolers, refrigerators) which need initial torque during startup phase, and disconnects when motor reaches near to its predetermined speed. Other uses are in coupling, DC blocking and bypass circuits.
Container: Cylindrical case (Gold Color) made up of high tempperature thermoplastic material.
Encapsulation Material:  Processed Bitumen with melting point upto 150°C.
Standard:ISO 9001:2015
Rated Voltage*: 220 ~ 320 VAC
Capacitance Range*: 80 to 110 µF, 138 to 182 µF, 200 to 250 µF, 250 to 300 µF, 300 to 400 µF, 400 to 450 µF, 450 to 500 µF.
Rated Frequency*: 50/60 Hz
(*Custom designs are welcome)
Why AMBER GOLD Start Capacitor?
AMBER Gold Start Capacitor is high voltage and high temperature electrochemical device. It consists of compactly wound elements made up from aluminum foil separated by layers of paper and impregnated in conducing liquid. Aluminum foil formed and etched at high voltage imported from Germany is used for manufacturing of these capacitors. Separating paper having high withstand voltage is used. AMBER Gold Start capacitors meets the specifications of IEC 60252-II and EIA 463. It provides stable electrical characteristics and can work under voltage fluctuations up to 320V.  High temperature bitumen is used for filling to make its operation cooler and lifelong. Capacitor elements are enclosed in high temperature plastic cases. These capacitors are designed and tested at 2.5kV for 5 seconds between terminals and cases without breakdown or flashover. These are designed and tested to withstand 140% of rated voltages between terminals for 2 Seconds at ambient temperature.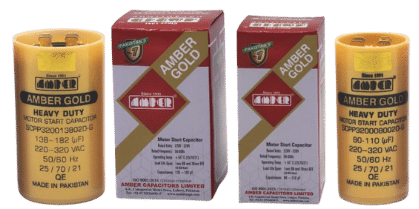 Details
Dimensions
Catalog
Drawings